E-Safety
At Carnforth High School we proactively promote e-safety and the prevention of cyber bullying. We also provide our students with information that will allow them to make safe and sensible choices when using the internet. We strongly encourage parents and guardians to read the information provided on this page to ensure they are aware of potential dangers and the support available should they have concerns.
E-Safety – Information for Parents
ICT is an everyday part of people's lives and schools are making increasing use of new technology.
At Carnforth High School, we have systems in place to protect your children including internet activity monitoring software which alerts senior staff to any concerning behaviour.
Please remember that Social Media Sites (e.g. Facebook, You Tube, Twitter, Instagram etc) have a minimum age requirement of 13+ in their terms and conditions. Also WhatsApp and other internet based messaging services can only be used by 16 year olds and over.
Carnforth High School urge all parents / guardians to enable security settings on home devices to help protect your children online.
How to Deal with Concerns
If at any point you have any concerns about your or your son/daughters safety online please report it to CEOP (a police led online crime and safety service) using this link:
CEOP always recommend the following:
If you need urgent help, i.e. your child is in immediate danger such as meeting a stranger they have met online, then call 999.
Don't delete any emails, images or conversations related to this report.
Don't contact the suspect yourself. Let us do the detective work.
Most sites will have their own report buttons too or facility to block people and pages that cause you concern.
Carnforth High School students can also report an issue directly to the school by using the report concern option on their EPraise account.
Safer Internet Use
Golden rules to safe Internet Browsing
Children should only add on social media sites people they know and trust in real life. Some predatory paedophiles can convincingly pose as another teenager and may spend months or years 'grooming' the victim until they meet face to face.
Children must always be accompanied by an adult if meeting an online friend in person.
Take an interest and suggest they add you as a friend on any social networking sites so you can keep an eye on them when they first join.
Have the main computer in a communal area of the home where there is passive supervision and be reasonable about time online. Talk if you feel it's getting out of hand.
If they have a wireless laptop and you want to stop them going online after a quota of hours is up, unplug the 'router' where the phone line comes into the house.
What to look for on a website
The CEOP report button is the online equivalent of dialling 999. We need to train young people, just like we do with 999, to recognise it and know how to use it should they need to.
Look out for websites that have this button built in.
The direct link is: www.ceop.police.uk should you need to report a concern.
Online bullying/ Cyber Bullying
Cyber bullying is the use of the Internet and related technologies to harm other people, in a deliberate, repeated, and hostile manner.
Children can be unkind to each other online. Bullying is not new but the technology has changed making it is easier to track and prove who is responsible.
If you suspect your child is having a problem, the evidence will be on your computer. Inform the Police via a referral to CEOP and print off copies of any messages and screen shots of web postings as evidence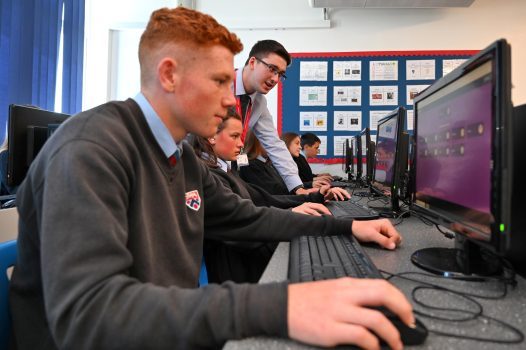 Leaders ensure that pupils are taught well about avoiding risk and staying safe.
OFSTED 2021